If you have installed Conversion Support's live chat in your website, a good idea would be to verify whether the chat code has been successfully installed in your website or not. To verify the installation, all you need to do is hit the "Verify Installation" button in the "Settings" page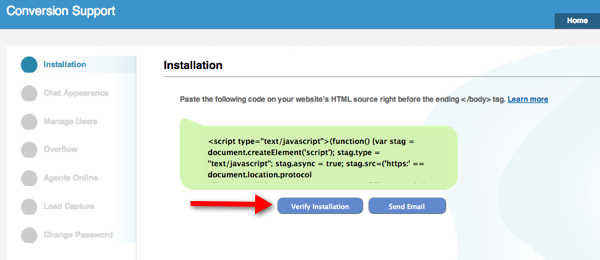 When you verify the installation, you might sometimes see the message "Yet to Install code", even after you have properly installed the code in your website.
1. Clear your browser's cache (Control + F5 in Windows, Command + R in OSX). Reload your Conversion Support account console, go to the "Settings" page and click on "Verify Installation" once again.
2. You may want to wait for 5 to 10 minutes after you have installed the code in your website
3. Please ensure that the code has been added exactly the same as it appears in your Conversion Support account Some content management systems treat double quotes badly, so you should ensure that the code is properly added to your website's HTML source.
If you still face problems verifying the installation for your Conversion Support account, please contact us or write to us at support@conversionsupport.com